Window, Door & Locksmith Services
Cuddihy Window & Door Services provide expert
repairs to all makes of uPVC, aluminium &
timber windows and doors.
We are a Kilkenny based PSA licensed locksmith.
Window, Door & Locksmith Services
We specialise in the repair and maintenance of all types of windows and doors.
We pride ourselves on our good reputation, the quality of our products and our attention to detail.
We are a family run business, established in 1995 by Pat Cuddihy. Together with son, Paddy, we have over 40 years experience in the window and door industry.
We work in both the residential and commercial markets. Many of our clients are repeat customers and have built excellent relationships with them, based on trust and reliable good service, over many years.
As an established Kilkenny based company our name is synonymous with quality and professionalism in the window and door industry.
We are licensed Locksmith by The Private Security Authority, Licence No. 08196.
We are a member of the Irish Locksmith Organisation. All our staff are highly skilled and trustworthy.
Areas Covered – Kilkenny and surrounding counties

Our Services
Window Repair Services
Are you sick of the cold draughts coming through your windows? Has your window handle broken or snapped off?
Do you have a problem with condensation forming on your windows? Do you need to child proof your windows?
We can repair and re-seal your draughty windows.

Keeping your home warm and cosy on cold winter nights.

We can replace broken window handles.
We can increase security with locking window handles.

We can help alleviate the condensation in your home by installing trickle vents.

Gain peace of mind by installing child proofing window restrictors.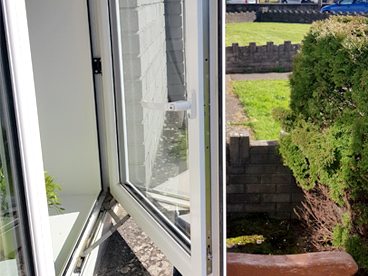 The window lock is a multipoint lock that is recessed into the sash of the window. It is operated by a window espag handle. Over time, the window lock can become worn and the gear mechanism can break.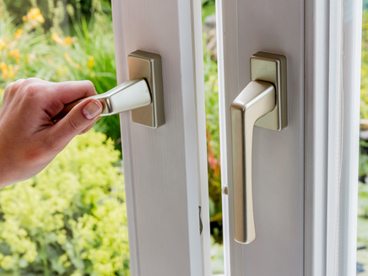 Window handles are one of the most common parts to break on windows. Window handles usually break because of the excess force put on them when opening and closing the window.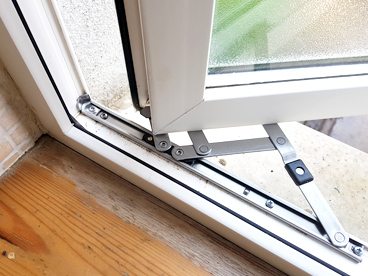 The number 1 reason for draughty windows is broken window hinges. Over time, wear and tear, dirt and rust can stop the hinges from opening and closing freely.
Door Repair Services
Are you tired of pulling and dragging your sliding patio door, that doesn't slide anymore? Does your letterbox flap
annoyingly in the wind? Do you have a gale blowing in through your front door? Or maybe you want to spruce up your front door?
We can supply and install a new set of sliding patio door rollers, and have your door sliding like new.

We can replace your broken letterbox and re-seal your door in no time.

Cold draughts will be a thing of the past. Why not add a shiny matching set of door handles to suit your letterbox.
Cuddihy Window & Door Services are PSA Licenced Locksmiths and are members of the Irish Locksmith Organisation. If you have a problem with your door lock, then look no further.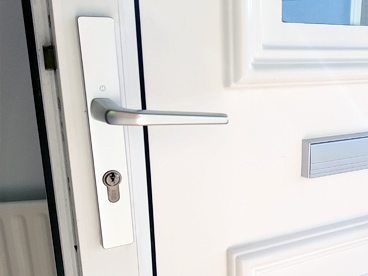 The doors in our homes and businesses are opened countless times throughout the day. It is no surprise that they are prone to breaking, as they bear the brunt of the use on the door.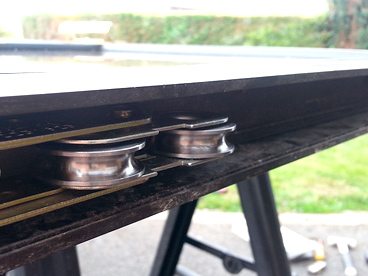 All patio / sliding doors have one thing in common. They all use patio rollers (wheels) to slide upon. The patio rollers are mounted on the bottom of door, and sit on top of a track which allows the door to slide back and forth.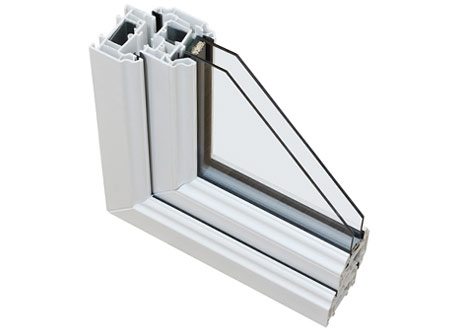 Glass & Glazing
Has the glass in your window or door been broken? A sliotar? A stone? A burglary? Is your glazing fogged up or have condensation between the panes of glass? Do you want to help keep you home warm and cosy and lower your heating bill?
We can supply and install replacement glass or glazing in your window or door.

Whether it's broken glass from a sliotar, or a fogged up double glazed unit.

Talk to us today about upgrading your double glazing to super low heat loss double glazing.
Get in Touch
Contact us today for more information or to get a free quotation for our window, door & locksmith services
Locksmith Services
Is your door lock difficult to lock and unlock? Has your door lock stopped working completely? Is your door locked shut and wont open? Have you bought a new home and want to change the locks? Or want to change the locks after a previous tenant? Maybe you want to upgrade the security of your door locks?
We can repair and replace all types of door locks, from mortice locks to multi-point door locks.

We can open broken locks that have failed and are locked shut with little to no damage to your door.

We can change to locks and install with a new lock with new keys.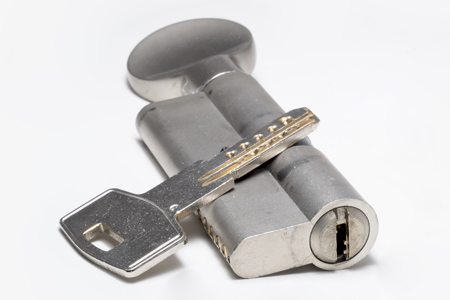 Shop Online
Our online shop with next day delivery sells replacement parts & accessories for windows and doors like locks, hinges, handles, screws & more!
Just some of the brands we work with