Window Restrictors / Child Safety Catches
From the 1st of July 2017 the HOUSING (STANDARDS FOR RENTED HOUSES) REGULATIONS come in to effect.
It is now a requirement for all landlords to have window safety restrictors fitted on the windows in their properties. These are excerpts from the building regulations on window safety restrictors
Part K – Stairways, Ladders, Ramps and Guards Section 2.7. states the following:
In dwellings where a window has an opening section through which a person may fall, (having particular regard to children under five years old), and is more than 1400 mm above external ground level, suitable safety restrictors should be provided.
Safety restrictors should restrain the window sufficiently to prevent such falls. Restrictors can be either an integral part of the window operating gear or separate items of hardware which can be fitted to a window at the time of manufacture or at installation. Restrictors should operate so that they limit the initial movement of an opening section to not more than 100 mm.
Part B – Fire Safety (2017) states the following:
The opening section of the window should be secured by means of fastenings which are readily openable from the inside. In certain circumstances safety restrictors may be fitted to such windows see TGD K Section 2.7. Lockable handles or restrictors, which can only be released by removable keys or other tools, should not be fitted to window opening sections for escape or rescue.
Learn more about the building standards and regulations from the official government site but ultimately there is a big push to bring rented accommodation up to standard by retro fitting window restrictors.
Child Safety
Child proofing your windows is a must for peace of mind if you have small children. Having window restrictors (window safety catches) installed will allow the window to open a small amount for ventilation, but stop the window from opening too far. All the window restrictors we install comply with the Irish building regulations.
The building regulations state that all windows must be open-able in the event of an emergency. It also states that all restriction devices have to be releasable, and cannot permanently restrict the window from opening. This means that locking a window with a key is not an option. We have a selection of products to suit every type of window.
Spring Catch: The most common type of window restrictor we use is the spring catch. The spring catch allows the window to open a few inches, but automatically catches and stops the window from opening any further. To release the catch it requires two hands and a certain movement. This is perfect as it will stop a child from opening a window and accidentally falling out. We will also like to fit the restrictor as far out of children's reach as possible. The spring catch will work on nearly all types of uPVC, aluminium and timber windows.
Cord Restrictor: The other type of restrictor we use is the cord restrictor. This type of restrictor is perfect for use on tilt and turn windows, or on windows where it is not possible to install the spring catch. It is surface mounted onto the window and is released by pushing the tab.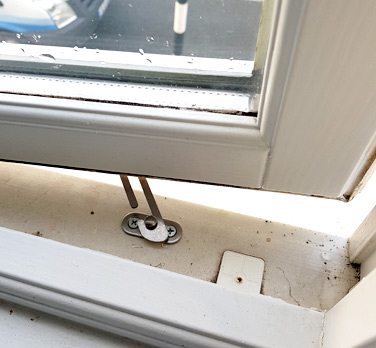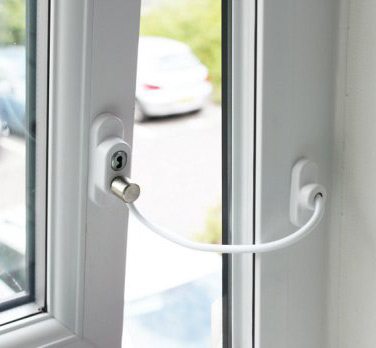 Just some of the brands we work with